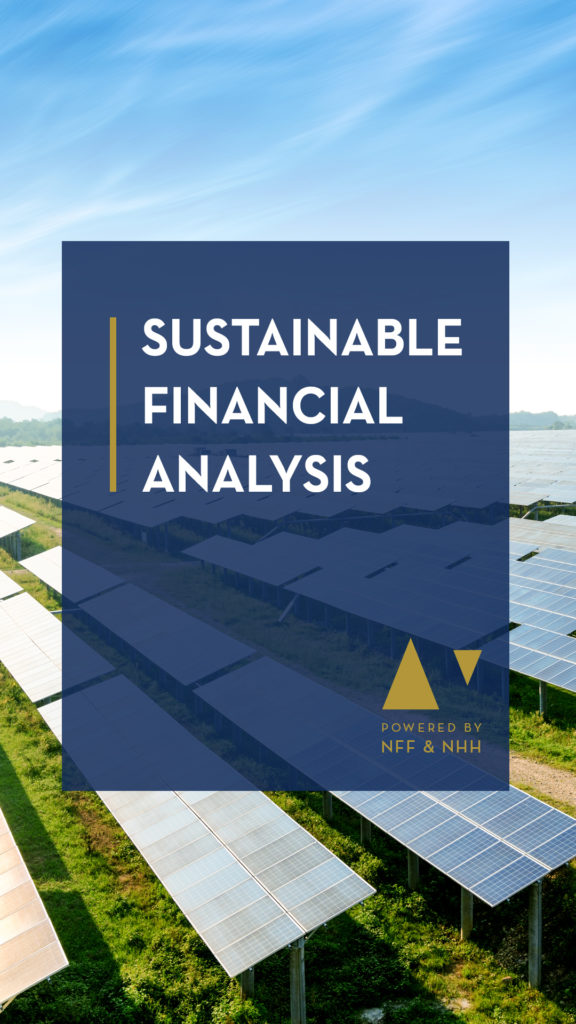 The programme retains a practical and applied approach, and the student will be equipped with a deeper and more fundamental understanding of the dilemmas that arise where financial analyses meet sustainability.
As a student you will explore methods and skills that enable you to include ESG in well-founded financial analyses. The benefits are many, particularly as this is a field where the need for essential ESG-information faces many challenges due to a general lack of standards and the very speed with which this field has developed.
You will become part of a network of highly professional and experienced students and lecturers, where peer-learning and chared knowledge and experiences are essential tools.
Who is the programme for?
The Sustainable Financial Analytics programme is designed for experienced professionals with an interest in how to integrate sustainability in financial assessments. Relevant professional backgrounds include analysts, portfolio managers, CFOs, accountants, investors, rating analysts as well as advisors, journalists and regulators.
The programme is particularly suitable for Norwegian and Scandinavian applicants but welcomes applicants from outside the Nordic region as well.
Applicants are required to have at least three years of relevant work experience as well as a basic knowledge of sustainable finance.
FFN offers an introductory course in sustainable finance where needed (in Norwegian). Read more here: FFNs kurs i bærekraftig finans
Who will you meet?
The Sustainable Financial Analytics programme has succeeded to combine excellent resources both from academia and the market. Among others you will meet:
From the Norwegian School of Economics (NHH):
Practitioners/Lecturers from the market
| | |
| --- | --- |
| | Annie Bersagel, Portfolio Manager ESG, Folketrygdfondet |
| | Melanie Brooks, Portfolio Manager and Head of ESG, Fondsfinans Kapitalforvaltning |
| | Ulf G. Erlandsson, Founder/Chief executive, Anthropocene Fixed Income Institute |
| | Kristin Holth, Non Executive Director at Maersk Tankers |
| | Are Jansrud, Chief compliance officer, SpareBank 1 Østlandet |
| | Kjetil Rimstad, Partner, EY |
| | Hanne Thornam, Partner/Nordic Head of Climate Change and Sustainability Services, EY |
| | Laurens Swinkels, Executive Director at Robeco and Associate Professor at Erasmus University Rotterdam |
| | Isabelle Juillard Thompsen, Portfolio Manager, DNB Asset Management |
| | Christopher Wright, Head of ESG Risk Monitoring, Norges Bank Investment Management |
What you learn
The Sustainable Financial Analytics Programme is organised in three sessions covering three parts. The first part focuses on current challenges and sustainable business models, materiality analysis and reporting.
Part two integrates sustainability in financial valuation using traditional valuation models as a starting point. The third part focuses on how to best include sustainability in Portfolio Management; both on a more general level, and for the most important asset classes.
The group based assignment, which will be discussed in full in a separate third and final session, integrates the knowledge and information from the two previous sessions and is an essential part of the programme.
The first session: August 2023 (TBA)
Sustainable business models, materiality and reporting
Integrated valuation using ESG metrics
The programme's starting point will be topics related to the nature and characteristics of more sustainable business models We will discuss the opportunities and challenges of sustainability reporting, and discuss the identification, prioritization, measurement and reporting of ESG factors, as well as EU Taxonomy and other key international standards.
The second part of this session offers an integrated perspective on valuation that incorporates externalities that can cause sudden shocks to a company's cash flows, lead to stranded assets, and force losses in the company's productive value. . The goal of this part of the course is to explore ways of internalizing the inherent uncertainty about environmental, social, and governance (ESG) issues into a company's valuation.
The second session: September 2023 (TBA) 
Based on an understanding of fundamental sustainability concepts and criteria, as well as how these are measured and included in valuation models, the second session covers how to apply this in a portfolio management context.
Understanding how sustainability could be integrated in portfolio management includes a recap of the core portfolio theory models, based on the trade-off between risk and return, with topics like the CAPM, factor models and market efficiency, proceeding to discussing how to create portfolios according to different investment styles, and how to evaluate their performance. We will look into different ESG strategies used by portfolio managers.
We will cover how sustainability could enter the analysis and investment into other asset classes, e.g. fixed income/credit, real estate, private equity, and impact investments, as well as performance measurement and implementation challenges.
The final part of this session prepares the students for the group projects that will be discussed in the final session.
The third and final session: December 2023 (TBA)
The last session will focus on discussing the group assignments. Sustainable finance is a complex field with a particular need for well-founded and balanced discussions. Each assignment will be presented and discussed by students, lecturers and invited experts and contributors in the field.
Assignment/assessment method
The assessment method is a group based written assignment where the aim is to integrate knowledge and information from lectures, presentations and discussions throughout the programme, and apply this to a valuation of a company or a financial instrument, a portfolio construction, portfolio analysis, or other topics that include sustainability in valuation, or assessment of portfolios. The assignments will be presented and discussed in a separate two-day session at the end of the programme (March 2022).
***